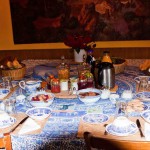 Breakfeast included
Single : 85 euros
Double : 105 euros
Extra bed : 20 euros
Open all year round (reservations required for off-peak season)
Starting from three consecutive days the price is reduced to 85 euros from the first days (70 for a single room).
Reservations for one day only are no longer available as from May to October.
Breakfast :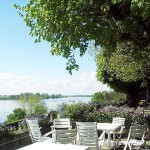 If the weather is warm enough, american breakfast are served on a terrace ideally situated to observe the river and the many birds that swim near strikes blond Sable.
Apart from the choice of basic drinks (tea, coffee, chocolate), it includes bread, croissants, orange juice, cereal, eggs from our chickens, cheese, garden fruits (raspberries, strawberries, plums, currants, cherries ) and pastries (tarts, macaroons, financiers, chocolate fondant; depending on the day).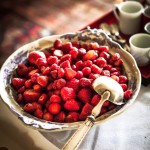 Barbecue facilities are available for guests who wish to take their meals on the terrace and they are given a complimentary fruit and seasonal vegetables growing in the garden (tomato, cucumber salad, corn, potato)
Guests have voluntarily limited their activity to three bedrooms to have time to book guests a warm and personal welcome.
They speak english and understand spanish .
Dogs on request.
On site :
Fishing, lenghty forest walk
near :
Swimming and tennis facilities (3km),
golfs (15 km)
Tour of the Loire Valley : Chambord, Blois, Cheverny, Sully
The hostess has extensive documentation and experience to advise you if you want to visit castles, play golf, visit Parks and Historic Sites, churches, pedestrian or bicycle rides, basements or flea markets.